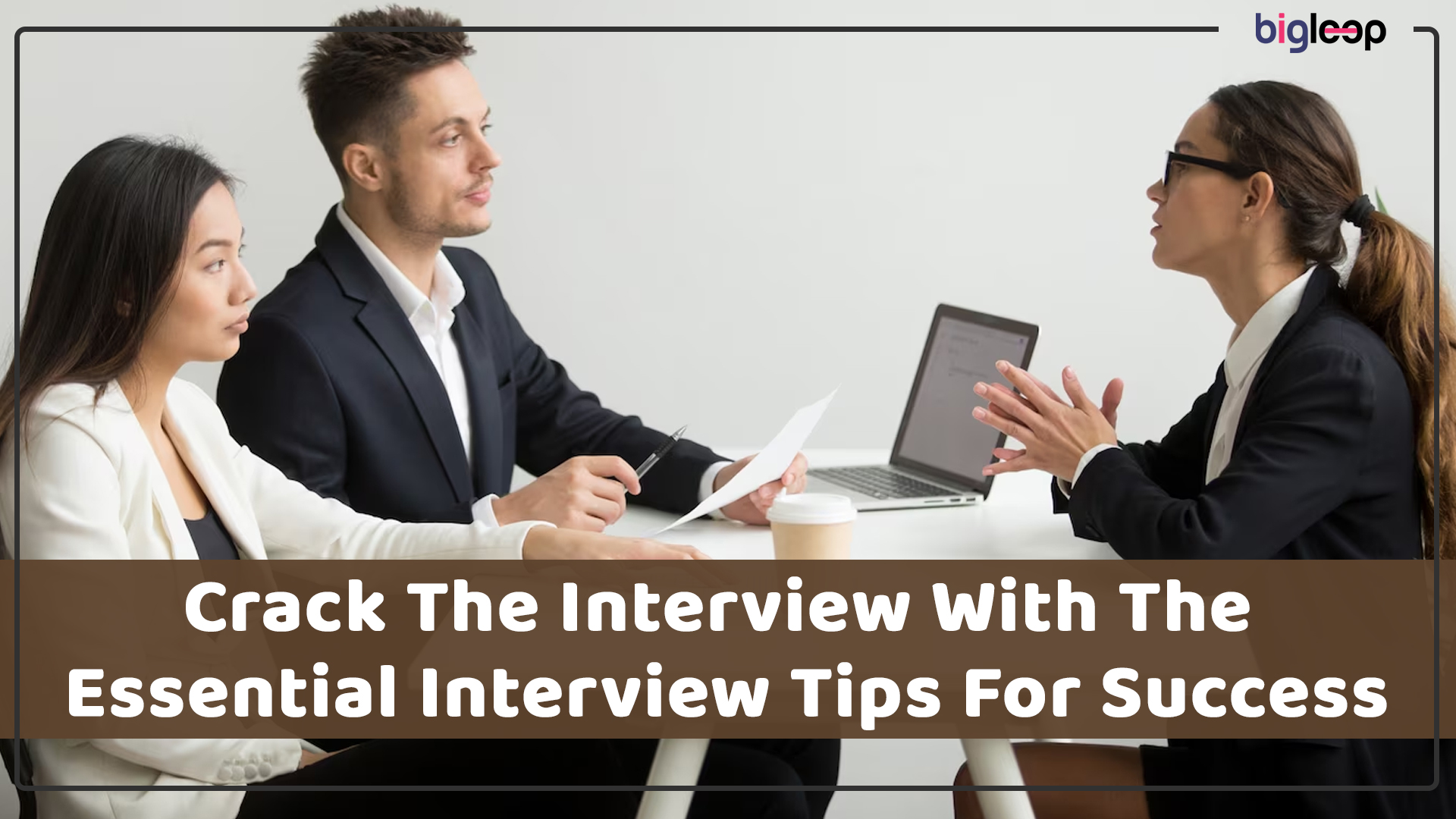 Crack The Interview With The Essential Interview Tips For Success
It is really important to achieve success in an interview in today's highly competitive job market. It is equally important if you are a graduate or an experienced professional to avoid any of the stressful experiences. With the help of the proper preparation and the right techniques, you can increase the chances of your complete success in cracking the interview. Today, In this blog we'll get complete insight into examining the best interview tips and suggestions to shine as a bright star in your next interview.
How To Prepare For An Interview?
A: Getting Ready For Success
In the majority of PSU cases, the Government holds 51% of the shares of the companies. The PSU sector is divided into two types: Central PSU and State PSU. However, in terms of revenue generation, they are further categorized into three sectors:
Examine the Company

Before entering the interview room you should have an extensive and complete knowledge and understanding of the company. You should conduct complete research about the company's history, working culture, company policies, company products, and beliefs. But do you know how to search for your preferred interview? You can simply search jobs by location filter on the various job portals to get the right one for you. But always remember that the first step in interview preparation should be to read about the recent news about the company. This will help you in indicating your interest in the job and also the company. It would also help you in customizing your interview responses in link with the company's aims and objectives.

Understand the Job Description From Start to Finish

You should completely familiarize yourself with the updated company job description and the recent guidelines. This will help in showcasing your interests, abilities, and experiences relevant to the job requirements you have shown interest in or have applied for. Be well prepared to answer the questions to explain why your qualifications make you the best candidate for the job.

Practice Interview Questions

To be successful in your interview, prepare some of the common interview questions. Also, prepare the answers for some of the common questions. Some common questions are mentioned below:

Introduce yourself.
Tell me about your strengths and weaknesses.
What makes you interested in working in our organization

Try to answer the above-mentioned questions or any other questions in a concise, straightforward, and specific manner, enhancing and putting a light on your knowledge and achievements.

Plan Out Your Questions

As we all know interviews are a two-way process. One should prepare insightful and useful interview questions about the company. This will also include the working environment and the position you are applying for. This will show your keen interest in the job you have applied for. And would also assist you in determining whether the company you are looking for is a good fit for you or not.
---
Related: 15 Interview Mistakes to Avoid for Securing the Best Job Openings in India
---
B: The Interview's Day
Appropriate Dress

Your interview attire plays a very important for making a really good first impression on the interviewer. Be professionally dressed and dress in an attire that goes well with the company you are going for the interview. When in doubt, be slightly overdressed rather than being underdressed.

Be on time

Always reach your interview location on time. Punctuality shows professionalism towards your job. Take plenty of time to reach your interview location. This not only will relieve your stress but will also help you to collect your thoughts before the interview.

Use Good Body Language

Use good and strong interview body language to show or highlight your confidence and competence. Always try to maintain eye contact, shake hands firmly, sit up straight, and avoid unnecessary moving.
C: During the Interview
Maintain Your Calm and Confidence

Try to maintain your calm and confidence during the interview. Try taking deep breaths, meditating, and maintaining a positive attitude to show your skills and knowledge. You will require confidence for the interview success.

Active Listening

It is really important to pay strong attention to all the interview questions and remarks given by the interviewer. Active listening will help you to engage in a meaningful conversation. Always remember to never interrupt anyone during any discussion or answering a question. If by any chance you missed or did not understand the question, ask for clarification.

Demonstrate Your Skills

Try to always support your answers with some examples. These examples can be even from prior job experience. Try to focus on mentioning the real-life examples where you have showcased some while talking about your interview skills. Frame your answers using the STAR technique (Situation, Task, Action, Result).
D: Finishing Up
Show Your Appreciation

After completing the interview, it is good to thank the interviewer for their time. Recapitulate your interest in the job and your want to join their team.

Follow Up

Send a personalized thank-you note to the interviewer after the interview, expressing your gratitude once more.
Deeper Insight Into Interview Techniques
1. Interviewing Techniques Based on Behaviour
Behavioral interviews frequently use previous interactions to predict future behavior. Interviewers will ask you questions such as, "Can you describe a situation where you had to resolve a conflict within your team?" Remember the following tips to succeed in behavioral interviews:
Tell Your Story: Provide an easy-to-read that highlights the Situation, Task, Action, and Result (STAR) technique.

Highlight Your Accomplishments: Highlight your role and the good outcomes from your activities.
2. Interviewing Based on Competencies
Competency-based interviews analyze particular job-related abilities. Follow these steps to succeed in these interviews:
Understand Key Competencies: Examine the job description to discover the necessary skills.

Give Examples: Provide clear examples from your experience to back up your replies.
3. Interviewing in a Situation
In situational interviews, hypothetical circumstances are given to you and you are asked how you would manage them. To excel in the situational interview keep in mind the below-mentioned tricks:
Analyze the Situation: Carefully evaluate the circumstance and, if necessary, ask clarifying questions.

Structure Your Response: Describe the measures you would take to fix the problem.
Jobs By Category In India
When it comes to finding the right job in India, you have the best benefit of being able to search jobs by category. There are many different categories whether you are searching for job requirements in the fields of Information Technology (IT), Healthcare, Finance, Engineering, Education, Manufacturing, Hospitality & Tourism, or any other job category list in India.

So, if you're ready and eager to take the next step in your career, browse jobs by category in India or search jobs by category in India. Search jobs by category is a great as well as helpful method to ease your job search by allowing you to focus on one industry or subject that matches your goals and your different job requirements. Our country India has a diversified work market that offers a huge and diverse variety with enough chances for each and every candidate to help you reach your professional objectives.
Diverse Opportunities

The employment or job market in India is coming up with new challenges and opportunities every day in different fields. These categories include a wide range of responsibilities and roles. This also guarantees that something is available for everyone and also no one would have to miss the chance of employment.

Versatile Choices

There are many chances in information technology, as well as different career fields such as healthcare, finance, engineering, education, manufacturing, hospitality, and tourism. The job category list in India is huge and vast as it caters to individuals with different skill sets and interests.

Easy Career Exploration

You can accelerate your job search by using the option or a filter to look for jobs by category and search jobs by location. This method allows you to concentrate on certain career ways or industries that are linked with your objectives. Whether you're a new graduate looking for entry-level jobs or an experienced professional looking for a change in your job opportunity, the category-based search makes the process easier.

So, whether you're looking to start a new profession or develop your existing one, look into the various jobs by category in India. You may find chances that fit your abilities and objectives with the appropriate approach and dedication, propelling your career to new heights.
Conclusion
The good interviews are the result of careful preparation, confidence, and excellent communication. You can boost your chances of interview success and go one step closer to landing your dream job by following these suggestions and demonstrating these crucial talents. Remember that interviews are about more than simply presenting your qualifications; they are also about exhibiting your personality and fit inside the organization.
---
Related: 15 Interview Mistakes to Avoid for Securing the Best Job Openings in India.
---