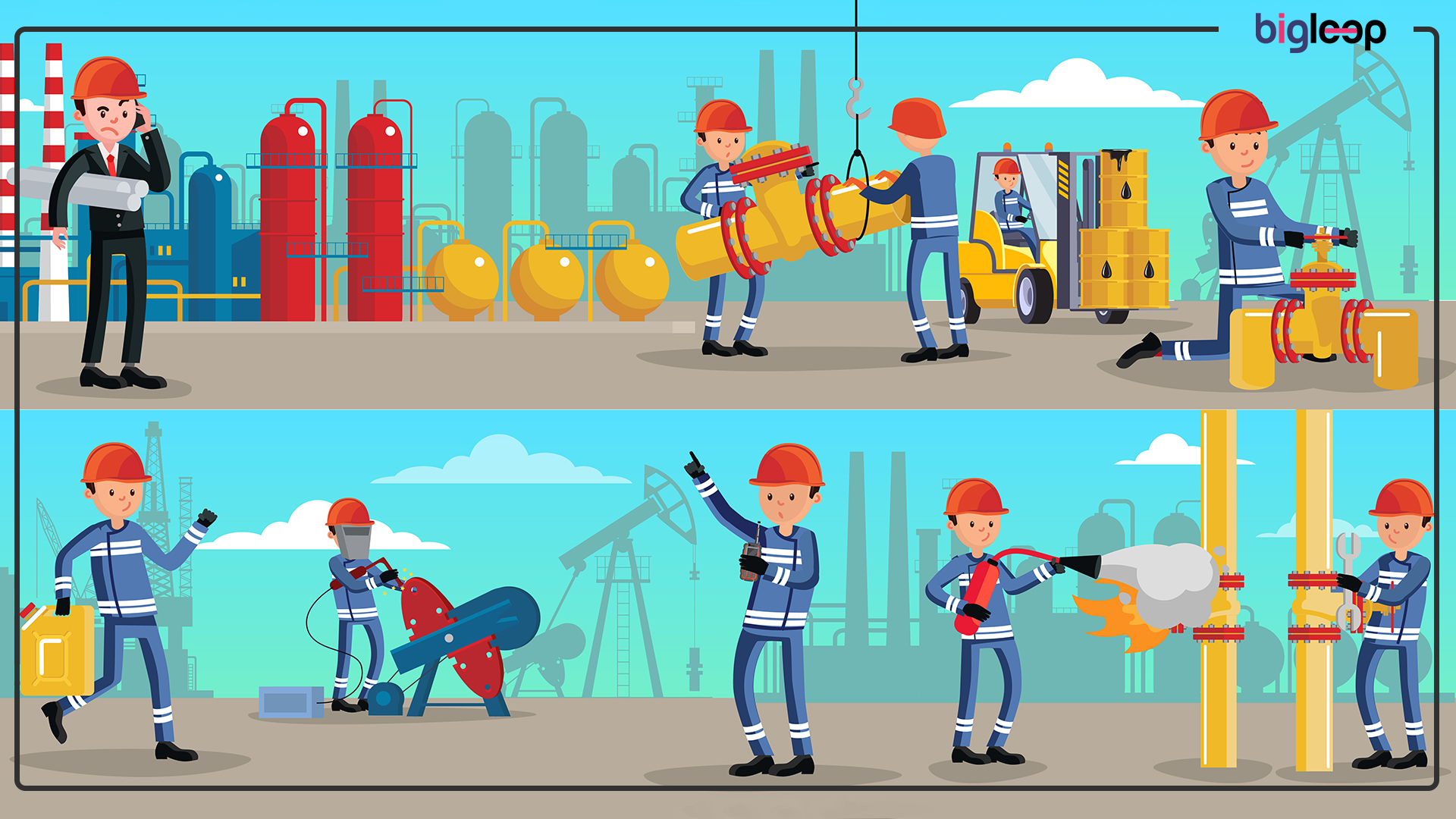 File: /home/jobs/public_html/application/views/career_advice_detail.php
Line: 7
Function: _error_handler

File: /home/jobs/public_html/application/core/MY_Loader.php
Line: 14
Function: view

File: /home/jobs/public_html/application/controllers/Career_advice.php
Line: 117
Function: template

File: /home/jobs/public_html/index.php
Line: 315
Function: require_once
">
A Complete Guide to Oil and Gas Recruitment Jobs
Getting a job in the oil and gas industry isn't just luck. Becoming a responsible employee in the oil and gas industry is no joke, you will have to master the technique of using the right skills and knowledge to handle sudden changes in this challenging field. In this blog, we'll talk about why people find the oil and gas industry appealing, good pay, steady jobs, and lots of chances to move up. In addition to this, we will also highlight a few tips on how you can make yourself stand out in this competitive field from others and grab the best job opportunity.
Why Choose Working in the Oil and Gas Industry?
There are various major reasons that attract people from different classes and families to find the latest job vacancies in India and work in the oil and gas sector. One big pull is the high salaries these jobs often come with, making them really attractive to job seekers.
Also, you can count on steady security in the oil and gas jobs for freshers in the industry because there's always a demand for their products.
Moreover, the number of job opportunities in the oil and gas industry is very high every year. You can start at the bottom and work your way up to senior management.
Reason Behind Why Payscale is Much Better in the Oil and Gas Sector
The oil and gas jobs in India are known for paying well because they make a lot of money. There are hundreds of vacancies to browse jobs by location, skills, experience, etc. This helps companies attract and keep the best workers. It shows that the industry values its employees and knows they're crucial to its success.
Another thing to note is that much of the work in the oil and gas industry happens far from home, in distant and isolated places. To attract workers to these locations, companies in this field offer higher-than-average salaries.
The type of work in the oil and gas industry is tough and sometimes risky. To make up for that, they pay more to ensure workers are fairly compensated for the risks they take.
One thing is sure, anyone who works in this industry should have specialised skills and expertise to work efficiently and responsibly. The processes of getting and processing oil and gas are complex, requiring workers with advanced technical knowledge. That's why only a few people search jobs by location in this industry.
What are Some of the Best Jobs You Can Apply for in the Oil and Gas Industry?
Your skills, knowledge, and career goals are the three major factors that will determine if you are getting the best jobs in the oil and gas industry or not. But there are certain roles that everyone wants because they pay well, are in high demand, and offer good chances for career growth.
These are the latest job vacancies in India everyone wants in the oil and gas industry: field service technicians, electricians, engineers, energy analysts, ecologists, sales representatives, and project managers.
Types of Oil and Gas Recruitment Jobs
Oil and gas jobs for freshers aren't just about the usual employer-employee setup. The industry lets workers be contractors or consultants, depending on their expertise and preferences for flexible work. This choice can affect their relationship with companies, the benefits they get, job security, and other factors. So if you are to browse jobs by location in this sector then you will find the following types of recruitment:
Contractual
Contractors are usually hired for specific projects or a set period. They bring specialized skills and are often used to help when a company needs extra hands, like during busy times or special projects.
Permanent Employees
Employees have a stable, long-term relationship with the company, earning a regular salary and benefits like health insurance, paid leave, and retirement contributions. Oil and gas jobs in India also hire freshers and train them under their supervision. They often follow a clear career path within the company, with more training opportunities, but may have less flexibility compared to contractors.
As Consultants
Consultants are experts in the oil and gas industry, hired to give strategic advice or solve specific problems. Like contractors, they have flexibility, in choosing the projects they work on. They basically work and gain experience with every ongoing project. They use their expert knowledge and skills to help companies make major decisions to improve operations.
How to Get Hired in the Oil and Gas Industry?
Here are some of the most effective tips and tricks to help you explore the latest job vacancies in India and land your dream job in the oil and gas industry:
Research About the Industry
Knowledge is key in understanding the ins and outs of the oil and gas industry, its trends, challenges, and opportunities, gives you an edge. Stay updated on the latest jobs, how technology and environmental rules are shaping the industry, and the roles in demand. This helps you make informed decisions and shows your commitment to potential employers.
Customize Your Resume
Recognize that each job and company is different. Increase your chances of success by customizing your CV and cover letter for each application. Highlight the skills, experiences, and qualifications most relevant to the specific oil and gas sector. Browse jobs by location, skills, experience, and other filters to refine them.
Create an Impactful Online Presence
In today's digital age, your online presence is crucial. Platforms like LinkedIn are powerful tools for networking and showcasing your skills. Keep your profile updated and professional.
Get Support from Recruitment Agencies
Recruitment agencies, especially those specializing in oil and gas jobs, can be valuable partners in your job search. They have expertise that can help you to search jobs by location and using other filters. They possess industry knowledge and connections to help match you with exclusive job opportunities that align with your career goals.
Learn and Development Skills
Stay current in the ever-changing oil and gas industry. ?You can invest your money in training and certifications which will enhance your skills to overcome the competition. This will make you an irreplaceable asset for the company.
Leverage the Power of Networking
Don't overlook the power of a strong professional network. Attend industry events, join professional groups, and connect with industry experts. Networking can open doors to opportunities that might not surface through traditional job searches.
Also Read:
Know all about the Upcoming Government Job Exams 2023: Age Criteria, How to Apply, and Prepare.